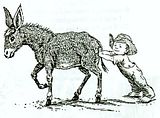 Shortly after taking their January oath, newly-elected Republicans who never ran on union-busting started proposing hardcore, damaging legislation aimed straight at the heart of some of the strongest Democratic organizers, the American unions.
The bad news is that these maneuvers have been reported by both political camps as part of a calculated strategy aimed at the upcoming election of 2012, and was only possible due to the 2010 election results.
The good news is that Republican overreach in the legislatures of Wisconsin, Indiana, Michigan, Florida and Ohio may have woken up lethargic Democratic voters, as it should.
Many distressed Democrats blame the union-busting phenomenon on scheming, disingenuous Republicans and on Democrats who voted in 2008 but failed to show up in 2010. It is true that based on sheer math, this is how Republican Governors won their seats and how Democratic legislatures became Republican ones.
The Right, with their loud corporate media-owned megaphones, started instantly dividing public union workers from private union employees. The two groups were pitted against one another as though there was a difference in what their collective bargaining power represented. Republicans worked hard to convince the most gullible that private industry services that we pay for are somehow different from services that we pay for as taxpayers. I see it all coming out of my same pocket, and so I see no real difference. To paraphrase the old saying,  first they came for them (public employees' unions), and when they came for you (private workers' unions) there was no longer any of them to stand up with you.
Elsewhere on the blame front, the youth of America have been rightfully accused of being MIA in 2010. Who is responsible for ensuring that this cavalier, chillaxing group thoroughly understands that they are badly needed at the polls, consistently? Who can ensure that they fully comprehend that their lack of voting affects not only their educational opportunities and prospects in career choices, but also affects their parents and grandparents, their current and future families, the environment, the truly disadvantaged, our foreign policy, and in effect, our entire future? Continue reading VOTING is the Ultimate Collective Bargaining Power