[Program Note: Regular readers may be scratching their heads over one of two things when they see this article today: "Where's the Friday Talking Points column, Chris?" and/or "Why are you running the Obama Poll Watch column for May when there are still four days left in the month?" The answer to both of these questions is the same: because I'm about to go on vacation. See the note I've posted on my site for full details. In a nutshell, Friday Talking Points will be on hiatus until 6/10/11, and then skip another week after that, until it returns to regular service on 6/24/11. My apologies for the interruption in our regular schedule.]
Obama's Best Month Ever
Due to this column's premature nature, I just have to state up front that the numbers we're using this month are preliminary. There are still four days left in the calendar month, which could cause the numbers discussed here to change slightly when the polling data is in. Any changes should be minor, and will be properly adjusted in next month's column. But the trendlines for May are so solid, at this point, that the final numbers should be very close to where we're going to peg them today. Just wanted to get that big caveat out of the way before we begin.
This month was the best month President Barack Obama has ever had in the polls, when measured as change over the previous month. If you count it one way (measured by absolute values) Obama's best month was technically the second month into his term — when he was still enjoying his "honeymoon" period, and had 63.4 percent support from the public. But in terms of actually changing public opinion, May was indeed the best month Obama's had, by far.
There's a simple reason for this, of course, which might be labeled: "What a difference a death makes." President Obama announced at the very beginning of the month that Osama Bin Laden was dead, and his poll numbers reacted almost immediately. For simplicity's sake here, we're going to call this his "OBL bounce."
This OBL bounce was the biggest bump Obama has yet experienced in his poll numbers. It reversed the last few months' downward trend in his numbers, and gained back all the ground Obama has lost since November of 2009 — a full eighteen months' worth. Obama enjoyed both the biggest upward bounce in his job approval average for the month, as well as the biggest downward slide in his job disapproval average.
Let's take a look at the chart: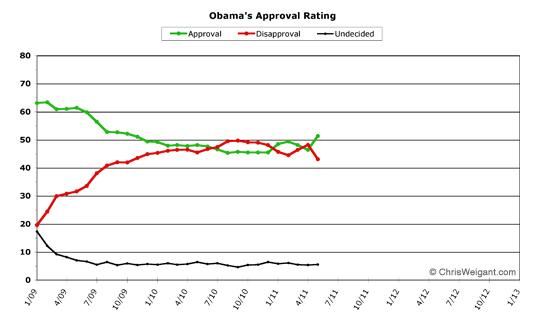 [Click on graph to see larger-scale version.] Continue reading Obama Poll Watch — May, 2011